View Royal rabbits get forever home, but more money still needed for rescue efforts.
View Royal rabbits trapped on the Helmcken overpass now number nearly 100 and will soon be heading from their small precarious plot of land on the Helmcken overpass all the way to a sanctuary in Texas, but funds are still needed to help make the trip a success.  Vancouver Island Vegan Association and the Animal Alliance Environment Voters Party of Canada are holding a fundraiser to support the local rescue efforts being organized by the View Royal Rabbit Rescue.
Rabbit numbers have continued to grow on the Helmcken overpass green space over the past several years.  While no one is certain how they got there, it is believed that they were dumped there by people who had originally bought them as pets and lost interest in caring for them.
Similar problems with people dumping domestic rabbits around the city have been happening for years.  A long gestating issue with domestic rabbits at UVic was dealt with by different organizations when over 500 rabbits were relocated from UVic's campus to a sanctuary in Coombs. Some rabbits also went to a different sanctuary in Texas; however, the View Royal Rabbit Rescue organization is not associated with those previous groups and has their own approach to handling the issue at the Helmcken overpass.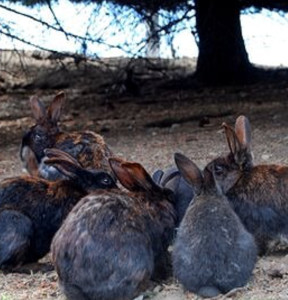 At this time, money is still needed for the rescue effort which will involve capturing, spaying/neutering and transport of the rabbits to Texas. Patrycja Ploch, one of the organizers of the rescue effort reports, "We are extremely grateful  to the sanctuary for offering a safe forever home for all of these abandoned domestic rabbits." Necessary permits to make the rescue happen were issued on February 12th by the FLNRO.  However, organizers are also mindful of the costs associated with the rabbits new home and want to make sure they follow through on financially supporting the sanctuary once the rabbits are there. "The Sanctuary should not be expected to be responsible for the entire expense that these rabbits will incur."
Buntacular Spectacular! is taking place April 7th at the Victoria Event Centre and will feature a full line up of local musicians, improv, dance, and more.  A few names from the line-up include Pages from the Oak Tree, Guitarist Mel Gantley, and improv extraordinaire Dave Morris of the Paper Street Theatre Co.  You can buy tickets to the event online now here or they will be available at the door for $20.  All ticket sales and funds raised from the event will go directly to the rescue effort.  You can RSVP on the Facebook event page here or you can see more about the event on the VIVA website here.

If you aren't able to make it to the fundraiser or would like to make a direct donation to the rescue efforts, Patrycja says there are lots of ways to help. "Please help us so we can help them.  You can help by sponsoring a rescued rabbit on a monthly basis.  All proceeds will go towards their ongoing care."
Jordan Reichert
Victoria Animal News