"Horse Carriages Are Exploitation" says billboard by Victoria Horse Alliance.
Victoria Horse Alliance has sent a big message to the horse carriages and the local community by buying a billboard spot on highway 17 coming into Victoria.
"A local member of the activist community came forward to us with a generous donation asking for this kind of messaging with the Animal Alliance Environment Voters Party of Canada putting up the remainder. We are so grateful to have this kind of opportunity." Says Jordan Reichert of the VHA.
Just prior to the billboard going up the organization released a video what appears to be a horse carriage in distress in downtown Victoria.  Something that the Victoria Horse Alliance reports can be seen any day of the week in the numerous near misses in the stressful environment of the city streets.
The billboard reads "Horse carriages are exploitation" with "banhorsecarriagesvictoria.org," the Victoria Horse Alliance's website, along the bottom.  There is a picture of  the head of a carriage horse that looks disheveled and exhausted to the right of the text.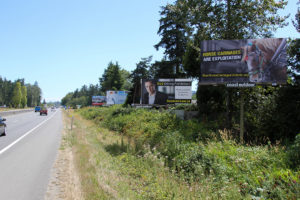 Reichert says the billboard means to communicate the un-romantic reality of the horse carriages. "It is important to show people how uncomfortable and distressing pulling carriages is on the horses used in the industry.  They are constantly under stress and put in compromising positions working in traffic.  It is inhumane and needs to end."
Victoria Horse Alliance has been documenting and reporting animal cruelty to the BC SPCA and the City of Victoria for months.  They say that the response from the community has been overwhelmingly positive for a ban of the carriages, but that the City has yet to take action at this time.
To learn more about the concerns with the horse carriages visit Victoria Horse Alliance's website at www.banhorsecarriagesvictoria.org