NARD Victoria proclamation to oppose violence and oppression against animals passes, despite opposition from councillor.
On a regular basis the City of Victoria passes proclamations brought forward from various organizations for the city to recognize officially.  These proclamations do not hold the city to any duty to those organizations, but is symbolic and recognizes the efforts of non-profit organizations commemorate or celebrate specific days of importance.  National Animal Rights Day Victoria (Nard Victoria) had asked for a June 4th proclamation in support of their event.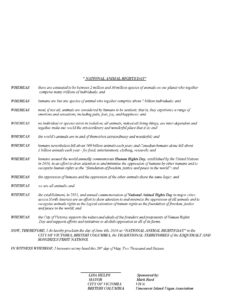 There were 10 proclamations to be approved by city council at Thursdays council meeting, everything from Orca Awareness Month, to Intergenerational Day, and Medical Marijuana Day. However, proclamation number four, National Animal Rights Day, was singled out as needing further discussion by councillor Charlayne Thornton-Joe.
Speaking on why she asked for the NARD proclamation to be pulled, Thornton-Joe cited a line reading as the source of her concern:
the City of Victoria supports the values and ideals of the founders and proponents of Human Rights Day and supports efforts and initiatives to abolish oppression in all of its forms.
Furthermore, she noted that the proclamation was sponsored by the Vancouver Island Vegan Association, who endorses the ideals of National Animal Rights Day of opposing violence and oppression of animals.  Because councillor Thornton-Joe is not vegan, she expressed concern with supporting a proclamation that would be hypocritical to her practices. Thornton-Joe has also been an outspoken supporter of the horse drawn carriages in Victoria through her position on council.
Councillor Ben Isitt was quick to point out that although he is not vegan, he still supported the proclamation citing the following line as merely a statement of fact and that the only request is for the City of Victoria to recognize the day as National Animal Rights Day in Victoria:
to recognize animals rights as the logical extension of human rights as the foundation of freedom, justice and peace in the world;
Councillor Loveday also supported the proclamation commenting that the proclamation was not asking the city to support the values of the founders of National Animal Rights day, but to support a similar "spirit" of those implied in Human Rights day.
Jordan Reichert of the Victoria Horse Alliance and one of the organizers of National Animal Rights Day Victoria was on hand at the council meeting and said that the specific challenge to the proclamation felt personal.
"When a councillor supports an animal use industry, such as the horse drawn carriages, I am concerned that they may put their personal agenda regarding promotion of that industry before the well-being of animals in general. This is why animals are such a political topic. We weren't asking council to go vegan, we were asking them to recognize a day that opposes violence and oppression against animals.  I hope that is something they would support in principle even if they don't practice it themselves."
A National Animal Rights Day ceremony will take place in Victoria on June 4th, 2016 on the grounds of the B.C. Legislature from 12-3pm.
Victoria Animal News