On July 5, 2016 Ingmar Lee of Denny Island, near Bella Bella, heard a message on the marine distress channel that a humpback whale was entangled in netting nearby. He found the whale towing about 100 feet of net, fishing line and ropes.  The whale was visibly exhausted.  The Department of Fisheries and Oceans had been advised. Ingmar says he was surprised that they weren't there when he found the exhausted animal.
Two years ago, while working at the Koeye River Sanctuary in Fitzhugh Sound just south of here, two Humpbacks, which we had been observing for weeks bubble- net feeding below our worksite, were promptly netted after DFO allowed a gillnet opening at Uganda Point near Koeye. It would have been utterly obvious to anyone with the slightest awareness that allowing at least 30 100 metre- long nets to be extended perpendicular to the shoreline along which numerous Humpbacks were feeding would guarantee entanglements, and it happened.
Needless to say, this was very outrageous and disturbing to everyone working at Koeye, and I decided to get involved in getting trained and certified to perform disentanglement services. But when I got in touch with Paul Cottrell [scientist, Department of Fisheries and Oceans], he told me that, no, – no training was being offered, and that "it was highly dangerous work, only to be undertaken by trained and certified operators." I asked him where he had obtained his " certification" but he could not answer that. He said that under no circumstances would anyone other than himself was permitted to undertake the service. Here around Bella Bella, almost everyone is an extremely experienced boat operator, many of whom are, no doubt far more experienced than even Mr Cottrell. Many of us are eager to be trained, certified, and eager to acquire all the equipment, -boats, tools, knives, floats to conduct these rescues.
Certainly, in the case of our recent disentanglement, the guaranteed timelag for the whale had we deferred to DFO and waited for "professional" help would have been lengthy – if they even bothered to show up at all. They certainly weren't interested in responding to that incident. We took that into consideration, as well as the perfect conditions, the state of the animal and the tools at hand when we undertook to disentangle that whale. I am very glad to have done what we did, and will do it again when the opportunity presents itself again – a very likely scenario. Meanwhile, I will continue to accumulate tools to do this work, and will seek training from my Alaska volunteer counterparts.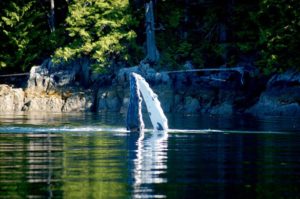 Photo Credit: Ingmar Lee
Q: Given that our federal government's environmental protections are whoafully inadequate when they rubberstamp salmon farms on our coast, and are not in step with the US government concerning designating resident orcas as endangered, do you think this is the only way to effect rescues of the many humpback whales that are caught in gill nets?  Do you foresee any action against citizen involvement in whale rescue by the DFO?
A: Well DFO guards its monopoly over whales and everything else very jealously. I expect they'd love to charge me, and, of course I'd love to be charged. That would catapult the issue, and I guess they know that. So we have to take it up a knotch, hence, getting training. I have been stocking up on the simple equipment that is required for this work, but to be properly ready, there are still some things I need to get, so I'm working on that. Once I've got all the stuff, and whatever " training" I can get, then I plan to give out my card to the various fishing fleets. Fishers probably hate DFO even more than everybody else hates them, so who are they going to call?! Meanwhile, I'm encouraging anyone else who's on the water to do the same, and get a grassroots citizen- driven disentanglement service going, DFO be damned…
Q: It was a surprise to hear the Vancouver Aquarium's veterinarian Martin Haulena state that there is estimated 400 pinnipeds on the coast of BC that are entangled in various fishing gear.  He seemed to state it as accepted fact.  Does the DFO or the Vancouver Aquarium have the manpower to help so many animals in distress?
A: One single Vancouver-based trained and " certified" person, no matter what his skill and experience, is absolutely not sufficient, given the increasing scale of the problem.
Q: You were interrupted during your CBC interview on July 7 when host Chris Walker cut you off to get to callers. What was it that you wanted to say?
A: The issue I wished to mention is that DFO, and its favourite propaganda organization, the Vancouver Aquarium jealously guard their BC-wide monopoly on whale disentanglement services. Unlike virtually everywhere else in the world where locally trained and equipped citizen groups take on the responsibility of rescuing whales, in BC there is only one single " certified" DFO- employed whale disentanglement "expert," Paul Cottrell. Currently, even professional DFO agents out on the water are not qualified to do actual whale rescue, but instead, may only deploy one of a very few tracking transmitters into the net trails of entangled whales, after which Mr Cottrell may then fly in several days later from his Vancouver office to attempt the disentanglement.
Kelly Carson
Victoria Animal News