On Monday, a Vancouver horse trolley loaded with tourists took a turn for the worst when the horses were spooked by the a vehicle passing vehicle.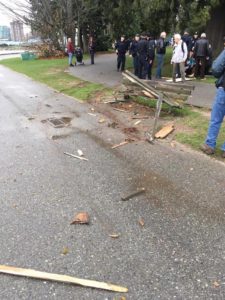 Stacia Leyes expected to be demonstrating with about 30 other protesters against the announcement by PM Trudeau of support for tanker traffic under the guise of funding to clean up fuel spills.  However, while on route, the demonstrators witnessed a terrifying event unfold with people being thrown from a runaway horse trolley.
"We were walking down the road towards where Trudeau was going to be giving his speech.  We were drumming and when the horse trolley's approached we told the drummer to stop, so as to not spook the horses.  Right after the drummer stopped a car that was behind the trolley went to pass the trolley and honked their horn.  That is what spooked the horses." reported Leyes who called the incident "horrific."
Leyes also said that she could tell that one of the horses was injured. There appeared to be bleeding on one of the horse's pasterns and fetlocks.  However, she was not able to get close enough after the incident to take a picture.  Reports have indicated that one person was taken to hospital after the incident, but no one appeared seriously injured.  Both horses were loaded onto police horse transports used by the Vancouver mounted police for their own horses.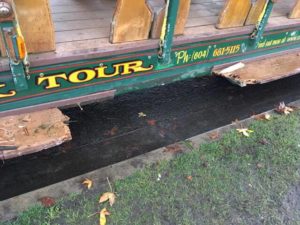 In Victoria, Jordan Reichert of the Victoria Horse Alliance condemned the ongoing use of horses for tourism in general and criticized the Downtown Victoria Business Association of their ongoing sponsorship of similar trolley rides through the downtown core during the upcoming holiday shopping season.
"Those horses could have easily gone right over the sea wall in Stanley Park and this incident could easily have been much worse.  When we follow the trolleys in Victoria we witness regular incidents and report it to the City and the BCSPCA, but they continue to do nothing.  Sadly, it won't be until a trolley runs amok through the streets of Victoria and someone is seriously injured that we may finally get the horses off the street."
Earlier this year in August a horse broke free from the carriage it was pulling and ran amok in the streets of James Bay.  While no one was reported injured witnesses reported being shaken by the incident.
Victoria Animal News