Interview with Darren Chang, Animal Advocacy Camp organizer and animal activist/advocate.
Date: MAY 21-22
Location: The WISE Hall (1882 Adanac St, Vancouver, BC)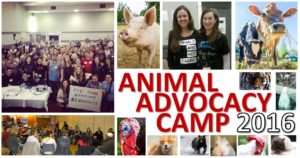 AAC missed 2015, why do you think it is important that it is back again this year?
Conferences are important and useful ways for like-minded people to converge and network, to share knowledge and experiences to advance a common cause. In past years, Animal Advocacy Camp has done that important work of connecting humans who want to better the lives of non-human animals to inspire and empower one another, primarily locally in the Pacific Northwest, as well as nationally across Canada by featuring Canadian keynote speakers, campaigns and organizations. This year we've decided to go beyond the Canadian context and invited speakers from the US, such as lauren Ornelas of Food Empowerment Project and campaign organizers of No New Animal Lab, Amanda Schemkes and Justin Kay, whose work are every bit as relevant to all animal advocates regardless of location.
What is the main message or focus of AAC?
The main focus of AAC is precisely what the name entails, that it is a "camp". Like athletes who attend training camps to challenge themselves to improve their skills and performance, AAC is a place where new or seasoned animal advocates come together to constructively and critically reflect on each other's work and ideas, so that as a movement we can collectively become more effective in helping other animals. The face-to-face aspect is crucial, especially in our current moment where individuals are growingly distanced and detached by technology, where people's energy are constantly drained by unproductive and often harsh exchanges on the Internet.
Nonetheless, AAC is not exclusive to those who are already involved in animal advocacy. AAC is also a place where people not yet involved in activism but are interested can come to learn what various forms of activism are out there, to network and make new friends who may help them get more involved.
In short, AAC is a collective educational effort to develop both the theories and practices of the animal advocacy movement, involving people from many different backgrounds.
There are speakers from many different backgrounds coming to AAC, is it important to have a large cross-section of activism, advocacy, and politics as opposed to more single topic conferences?
Absolutely. Diversity in all aspects of our activism, whether it's identities, experiences, strategies, or tactics is ultimately what makes a movement powerful. There does not exist and never will be a one-size-fits-all approach to achieving justice for animals. Self-critically, I wish the 2016 Animal Advocacy Camp could have been not just more diverse, but actually offered a platform for more marginalized and oppressed voices in the animal advocacy movement to be heard, in terms of geography, race, gender, class, age and ability. One only needs to glimpse over the speakers list to witness this shortcoming. This is for sure something we need to do better in future AACs, and to make it even more accessible.
Some great examples of recent conferences that have done a much better job and serve as great models going forward include the events organized by Earthlings Liberation Kollective, the Resistance Ecology Conferences, and the Intersectional Justice conference by The Whidbey Institute.
Where do you see AAC going in the future?
We have some very exciting plans for AAC in the future! Don't want to reveal too much here, since many ideas are underdeveloped, and we may be giving a short presentation during one of the lunch hours this weekend to talk about future plans, but in general, we are hoping to establish and sustain AAC as an ongoing project to train and educate humans who want help animals, and really bring out the "camp" aspect.
For example, we want to run dedicated "kids/youths camps" to engage with children and youths, to fundraise and offer "scholarships" for selected individuals to go on activist exchange programs to another city and build relationships with activist communities there, to organize regular workshops, lectures, etc., and to offer a platform for humane educators of all sorts the opportunity to share their knowledge with animal advocates. We want AAC to be a platform that helps to make the fight for justice and liberation for all animals to be intergenerational.
What has been the hardest part of organizing this event?
Besides all the typical obstacles that come with organizing a conference (securing venue, recruiting speakers, promotion, budgeting, fundraising, etc.), the toughest part was going into organizing without a clear theme and focus for the conference. This wasn't entirely in our control, as we wanted to balance the local focus of the past attendee-led, "UnConference" style AAC, while simultaneously trying to become more formally structured, to broaden the range of speakers and the work they represent. So the unclear vision was somewhat a result of structural as well as time limits. It got to a point where we basically tried to bring a bunch of awesome speakers and activists together and just hoped for the best. But in some ways this highlighted the diversity of animal advocacy, so hopefully it kind of worked out in the end.
How do you see this type of conference moving animal advocacy forward?
Conferences like AAC has the potential to move animal advocacy forward in pragmatic ways, by increasing the number of people involved in advocacy through networking, by building solidarity between groups so we can all support each other, by refining the ways we frame our activism for animals (how we think and talk about animal advocacy and how we approach issues the animals face), so our work can be more aligned with anti-oppression and social justice. We want to cultivate a more effective and committed movement.
Where do you feel the state of advocacy or activism is at in Vancouver?
Activism in Vancouver is vibrant, diverse and growing. Considering the relative small size of the city and its isolation from other major cities in the region, there are all sorts of initiatives and projects being carried out by grassroots groups, non-profits, charities and animal-friendly businesses. There are so many people here who care deeply about the lives of other animals and are actively trying to do something to help them.
Vancouver is also a place full of potentials to build coalitions across movements locally and make major impacts for animals internationally, with key targets/opponents in the fight for animal liberation right in our own backyard. A great example is the Vancouver Aquarium, which offers so-called scientific authority to justify and sustain animal captivity in zoos and aquariums globally, while using superficial conservation and education efforts to help resource extraction corporations (oil, gas, mining, etc.) greenwash as they destroy this planet.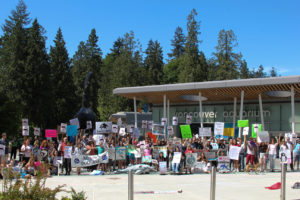 Final thoughts before we go?
On behalf of this year's organizers we want to shout out a big thank you to Glenn Gaetz, the co-owner of Nice Shoes and the main organizer of the first four AACs from 2010-2014, which featured some amazingly hard-working activists. Glenn started this valuable and important project, and we hope to take it even further in the future. And of course major thanks to all the sponsors and participants for this year's AAC, all the speakers travelling and volunteering their time and energy, the volunteers who helped organize and promote the event, and all the people who are actually coming to AAC! Thanks Jordan and Victoria Animal News for this interview!
You can visit the main Animal Advocacy Camp website here or check out their Facebook page here.
Tickets are still available at the door for each day of the event.  Online ticket sales are now closed.
Jordan Reichert
Victoria Animal News